UNDER CONSTRUCTION:
We have begun the process of updating the website for 2015 and have discovered a glitch that reverted some pages to older versions. We're working to fix the problem as soon as possible.


For information about the status of 2014 contests, please visit our facebook page (link below the menu bar, above) or blog (link at the bottom of this homepage) or sign up to receive "On TAP," the e-newsletter of The American Prize (sign-up link in red banner, below.) You can also email us (link below.)

Winners pages will be updated with 2014 information after the results of all this year's competitions are known.



Sign up for "On TAP" our e-newsletter

Questions?
theamericanprize@gmail.com
***
THE AMERICAN PRIZE:
Providing evaluation, recognition and reward to America's finest performing artists, ensembles and composers, based on recorded performances.
The American Prize is proud to have awarded
more than $25,000 in cash prizes in all categories since 2010.
For winners, click the winners' box:

For the latest competition updates:

The American Prize
is a series of new, non-profit national competitions in the performing arts unique in scope and structure,
providing cash awards, professional adjudication and regional, national and international recognition.
Each year, The American Prize rewards the best recorded performances by individual artists and ensembles
in the United States
at the professional, community/amateur, college, university, church and school levels.
You probably record your performances already.
Now it is time to win The American Prize and
receive the accolades you or your ensemble has earned.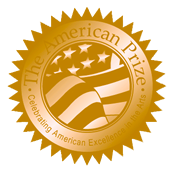 "...in cities large and small all across the United States,
great art is being made–in schools and churches, in colleges and universities,
and by community and professional musicians, actors and composers.
The media does not always tell us about these artists, but they are there,
entertaining audiences, educating young people, and contributing
to the quality of life in the communities they serve.
It is time their work was recognized.
That is the reason for The American Prize..."
—Preamble to Creating the American Prize, (2009)



Annual Competitions
(click on each link below for complete competition information)


Evaluation by Request
Receive professional feedback about any audition DVD or CD recording, resume or other marketing/application materials, at any time during the year, by request. (There is a modest fee for this service.)


Contests for Organizations & Ensembles:
Contests for Individuals: