2014 competition UPDATE (August 16, 2014)

2014 FINALISTS in all categories have now been announced.
Congratulations!
Please find the individual listings on our blog. (Link below.)


To follow the progress of all 2014 competitions as we head towards announcing winners in August and September, please follow us on Facebook, where the results of specific contests will be announced first.
(Our Facebook link is directly above and to the left, under the menu bar.)

To receive early announcement of 2015 contests, please subscribe to our e-newsletter, using the link in the red bar, below.

Questions, problems, requests: theamericanprize@gmail.com




You have recordings. The American Prize wants to hear them.
It is time to receive the accolades you have earned.

Providing evaluation, recognition and reward to America's finest performing artists, ensembles and composers.
The American Prize has awarded more than $25,000
in all categories since 2010, and has welcomed applications from 46 U.S. states and from American citizens living throughout the world.

Click the "Winners" button below to view Laureates of The American Prize.

***

THE AMERICAN PRIZE is unique:

NO live competition. We judge recorded performances only.

NO ages limits. Cash awards.

EXPERT written evaluation to all contestants who rank "Finalist" or higher, from one of our distinguished national judges.

CERTIFICATES to all participants.

Questions? theamericanprize@gmail.com



Sign up for "On TAP" our e-newsletter

For winners, click the winners' box:

For the latest competition updates:

The American Prize
is a series of new, non-profit national competitions in the performing arts unique in scope and structure,
providing cash awards, professional adjudication and regional, national and international recognition.
Each year, The American Prize rewards the best recorded performances by individual artists and ensembles
in the United States at the professional, community/amateur, college, university, church and school levels.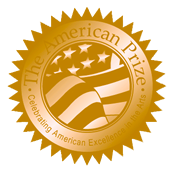 "...in cities large and small all across the United States,
great art is being made–in schools and churches, in colleges and universities,
and by community and professional musicians, actors and composers.
The media does not always tell us about these artists, but they are there,
entertaining audiences, educating young people, and contributing
to the quality of life in the communities they serve.
It is time their work was recognized.
That is the reason for The American Prize..."
—Preamble to Creating the American Prize, (2009)



Annual Competitions
(click on each link below for complete competition information or use the menu button, above)

Contests for Organizations & Ensembles:
Contests for Individuals:
Evaluation by Request
Don't wish to enter the competition? You can still receive professional feedback about any audition DVD or CD recording, resume or other marketing/application materials, at any time during the year, by request. (There is a fee for this service. Please email for more information.)
If you are interested in being considered as a judge, please click the link.