PRIZEWORTHY
Winners of The American Prize in CHORAL PERFORMANCE and CONDUCTING, 2013
Complete listings of finalists and semi-finalists in The American Prize competiations may be found on our blog.Please scroll down for winners and runners-up in earlier competition years.
The American Prize in Choral Performance—Community Division, 2013
The American Prize Winner: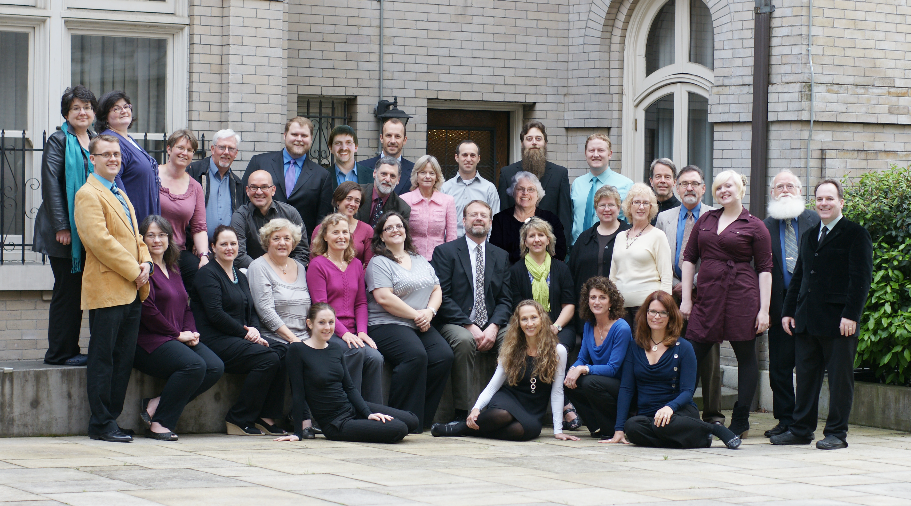 Opus 7 Vocal Ensemble  
Loren Ponten, director—Seattle, WA
Formed in 1992 by founding director Loren Pontén, Opus 7 specializes in 19th- through 21st-century a cappella choral music. As a resident ensemble of St. James Cathedral in Seattle, Washington since 1994, Opus 7 is dedicated to performing the works of local and regional composers, regularly commissioning new choral compositions. In addition, since 2000 Opus 7 has fostered new talent in the field of choral music through their unique Student Choral Composition Awards Program.

Among judges comments: "The diction is impeccably clear and delivered with rhythmic clarity. Unison melodies are crafted with agreement of vowels and tone color."
2nd place:



Choral Arts  
Robert Bode, director—Seattle, WA


Seattle-based Choral Arts is a thirty-member auditioned choral ensemble led by Artistic Director/Conductor, Robert Bode. Choral Arts has distinguished itself as a significant contributor to the art of choral music and has consistently achieved artistic excellence in its music and programs for the past twenty years. Choral Arts currently has five CDs released under the Gothic label. Its mission, to inspire, educate and enrich our community through the transformational power of great choral music performed at the highest artistic level, is carried out through its three core commitments:
•          To share the beauty of high-quality choral music in a way that is transforming and special.
•          To provide students with a fresh and oftentimes first experience with choral music through our unique Education Outreach Programs.
•          To honor the talents and contributions of our country's composers and be a catalyst for the creation of new compositions by American composers.
3rd place:


The Cecilia Chorus of New York  
Mark Shapiro, music director—NY, NY


The Cecilia Chorus of New York (formerly known as The St. Cecilia Chorus), founded in 1906, is now a 150 voice mixed chorus.  For many decades the Chorus, with professional orchestra and soloists, has presented two concerts a year at Carnegie Hall.  Under the artistic leadership of Mark Shapiro, appointed the seventh Music Director in July 2011, bold, new directions in programming and repertoire are emerging.  The Chorus commissioned and gave the world premiere performance of Divis Cetera by Rafael Fusco in December 2012. On April 14, 2013 the Chorus performed the NYC premiere of Dame Ethel Smyth's Mass in D paired creatively with scenes from The Maid of Orleans by Tchaikovsky.  The Cecilia Chorus of New York is a secular not-for-profit organization perpetuating and expanding the classical choral-orchestral repertoire through commissions and performances for diverse audiences (including outreach programs) in major New York area venues.




The American Prize in Choral Performance, 2013—SPECIAL JUDGE'S CITATION: EXTRAORDINARY COMMITMENT to the COMMUNITY through MUSIC



Singers of the Street (SOS)  
Kathleen McGuire, conductor
San Francisco, CA

Singers of the Street (SOS) is a San Francisco-based community choir of people affected by homelessness. Its mission: to raise voices for justice, healing, and joy! SOS was founded by conductor Dr. Kathleen McGuire in September, 2010, inspired by similar organizations in Australia, Canada, and Europe. SOS rehearses Wednesday mornings, followed by a free lunch provided for participants, and performs 2 -3 times per month at churches, schools, and community events. Performance highlights include singing at the centenary celebration of the San Francisco Symphony at Davies Symphony Hall, and appearing - via video performance – in the London Festival at the Royal Opera House as part of the 2012 Olympics. SOS's repertoire includes pops, world music, and sacred and secular selections reflecting its diverse membership. SOS has had a profound effect upon its participants and audiences, bringing hope of a brighter future to those who are disadvantaged. Please visit www.singersofthestreet.org for more information.
*****
The American Prize in Choral Performance, 2013—College/University Division:
The American Prize Winner:



Iowa State Singers
James Rodde, director, Ames, IA


The Iowa State Singers is Iowa State's most select choral ensemble.  Comprised of undergraduates, approximately one half of them music majors, the choir's membership is drawn from a campus of over 30,000 students.  The group annually presents a five-concert season, which includes a full-scale Madrigal Dinner and choral-orchestral masterwork.  Recent performances include Carmina Burana, the Requiem settings of Brahms, Mozart, and Duruflé, and similar works.  Concert tours have taken them to Western Europe, Russia, China, Australia, Korea, and conventions of the ACDA (2004, 2005, 2009, 2010) and NCCO (2008, 2011).  "Exquisite.... one of the best choral ensembles we have heard!" – Primarily A Cappella


Among judges comments: "Each track shows a robust voice production; clearly secure singing both in terms of strong fundamentals and direction of unified expression."
2nd place:


Western Michigan University Chorale
Kimberly Dunn Adams, director, Kalamazoo, MI

Conducted by Dr. Kimberly Dunn Adams, the University Chorale is Western Michigan University's flagship choral ensemble and represents the university at home and throughout the world.  The Chorale's annual performance itinerary includes concerts and festivals on the WMU campus, appearances in neighboring communities and churches, tours within the U.S., and an international tour every fourth year. Chorale has a long history of excellence in performance and competition, and has appeared alongside professional ensembles such as the Kalamazoo Symphony Orchestra and Seraphic Fire. In 2004, Chorale was featured on the opening concert of the Irving S. Gilmore International Keyboard Festival performing Stravinsky's Svadebka. The ensemble  has performed multiple times at ACDA National, Regional, and State Conventions and at the National Collegiate Choral Organization's bi-annual conference.  Chorale has released numerous recordings, including a 2010 release with Seraphic Fire of Monteverdi's 1610 Vespers that topped the iTunes charts and debuted to critical acclaim.
3rd Place:


Pacific Lutheran University Choir of the West Richard Nance, conductor, Tacoma, WA

The Choir of the West is the premier choral ensemble of the Department of Music at Pacific Lutheran University.  Founded in 1925, the choir was the third Lutheran college choir to tour extensively throughout the country. The ensemble is comprised of undergraduate majors from a wide variety of academic disciplines.  Yearly performances include shared concerts with other PLU ensembles, the annual series of Christmas concerts, campus ministry events, and campus celebratory events. Choir of the West has a rich history of domestic touring, and every four years travels abroad. The choir has performed in China, Japan, Scandinavia, and Europe.  In 2011 Choir of the West won two gold and one silver award at the prestigious Harmonie Festival, held in Limburg-Lindenholzhausen, Germany.  The choir has been selected to appear at several conferences sponsored by the American Choral Directors Association and the National Association for Music Education, most recently the 2013 ACDA national conference held in Dallas, Texas.


*****
The American Prize in Choral Performance, 2013—Youth & High School Division:
The American Prize Winner:



Pinecrest High School Chamber Ensemble  
Erin E. Plisco, director—Southern Pines, NC



The Pinecrest High School Chamber Ensemble is comprised of 55 students, grades 9-12. The choir regularly performs for the school and community, and is often sought after to perform for local events. The Chamber Ensemble has a long history of superior festival ratings and honors, national performances, and a performance at the NCMEA state conference in 2009 and 2012. Students frequently participate in ACDA Honors Choirs, the NCMEA Honors Choir, and the NC Governor's School for the Arts. In 2011, the program hosted Grammy award-winning composer Eric Whitacre as artist-in-residence for three days at the high school. In 2012, the program hosted the vocal group Cantus for a master class with the choral students. The choir recently performed at the Heritage Festival of Gold in Chicago, receiving the highest score in the festival. Other recent events include performances at Duke Chapel in Durham, and East Carolina University in Greenville, NC.
Among judges comments: "This ensemble has a clear understanding of choral style and performance. The repertoire is well-­chosen and appropriate for high school voices. Their diction and sense of phrasing are their strongest points, as is their commitment to working as an ensemble."



2nd place:


Young Naperville Singers Chamber Singers   Angie Johnson—Naperville, IL

Young Naperville Singers (YNS) was founded in 1984 with a mission dedicated to promoting the highest level of artistic excellence in choral music through extraordinary educational and performance experiences that enrich the lives of young people. Based in Naperville, Illinois, the choir consists of eight ensembles whose 318 members range in age from six to seventeen.  Weekly rehearsals are held to prepare for two formal concerts presented each year that feature a varied repertoire and guest musicians.  Informal concerts are held throughout the year. Singers have participated in festivals throughout North America, the most recent being the Coastal Sound International Choral Festival (Canada). YNS has had performance collaborations with Judy Collins, David Benoit and Natalie MacMaster and has premiered commissioned works by noted composers such as David Brunner and Stephen Paulus.  Membership is by audition and all children regardless of race, gender or physical ability are welcome.
3rd Place:


Brearley B-Naturals
Karyn Joaquino, director—New York, NY

The B-Naturals are the a cappella group of The Brearley School, an all-girls preparatory school in New York City.  The group was founded by students in 1986, and has performed under the direction of Karyn Joaquino since she joined the Brearley faculty in 2000.


The repertoire is intentionally broad, ranging from traditional choral pieces to vocal jazz and pop.  Much of the repertoire is arranged by Ms. Joaquino, but every show or recording is likely to include a few student arrangements, and even original student compositions.  Most members of the B-Naturals pursue their love of a cappella music during their college careers as well, often directing their own groups.

The B-Naturals have sung the national anthem before a Yankees game, opened for jazz pianist Peter Cincotti at Jazz at Lincoln Center, entertained the King and Queen of Sweden, and have brought their music abroad twice to England and Wales.  In addition to live performances, the B-Naturals have recorded five CDs, and have been recognized for their work by Best of High School A Cappella, DownBeat Magazine, and the Contemporary A Cappella Recording Awards (CARAs).
The American Prize in Conducting, 2013—Choral Division, Community Chorus
The American Prize Winner:



Richard Nance
Pacific Lutheran University Choir of the West, Tacoma, WA


Richard Nance is the Director of Choral Activities at Pacific Lutheran University where he has worked since 1992.  At PLU Nance conducts the Choir of the West, Choral Union, and teaches classes in choral conducting.  Nance holds bachelors and masters degrees from West Texas State University and the Doctor of Musical Arts from Arizona State University.  He has studied conducting with Hugh Sanders, Douglas McEwen and David Stocker, and composition with Joseph Nelson and Randall Shinn.  Nance is an active member of the American Choral Directors Association (ACDA) and has held many state and divisional offices.  Nance's choirs have appeared at several ACDA conferences and have toured Europe on five occasions.  In the summer of 2011 the Choir of the West won two gold and one silver certificate at the prestigious Harmonie Festival, held in Lindenholzhausen, Germany.  Also in 2011, two PLU choral albums under Nance's direction won first and second prize in their categories of the "American Prize" competition, and Nance received first prize for conducting. Richard Nance's compositions are regularly performed by school, university, church, community and festival choirs.  In 2002 Nance was selected to compose the prestigious Raymond Brock Memorial Composition for the American Choral Directors Association.  Other composers who have shared this honor include Gian-Carlo Menotti, Eric Whitacre, Morten Lauridsen, René Clausen, Daniel Pinkham, Samuel Adler and Gwyneth Walker.
Among judges comments: "The sound of this choir gives powerful evidence of a conductor with very fine pedagogical and gestural technique."
2nd place:


Peggy Dettwiler
Mansfield University Festival Chorus, Mansfield, PA

Peggy Dettwiler is Professor of Music and Director of Choral Activities at Mansfield University, where she conducts the Concert Choir, Festival Chorus, and Chamber Singers, and teaches choral conducting and methods. She holds the Doctor of Musical Arts Degree from the Eastman School of Music in Rochester, New York.   In 2010, she received the Elaine Brown Award for Choral Excellence from the Pennsylvania Chapter of the American Choral Directors Association, and she placed second for The 2011 American Prize for Choral Conductors at the College/University level.  Dettwiler has served as a guest conductor and lecturer throughout the country and has given presentations at numerous NAfME and ACDA Conventions.  She has produced two DVDs, one entitled, "Developing a Vocal Color Palette for Various Choral Styles" and the second, "Sing in Style."
3rd Place:


Ingrid Lestrud
Merit School of Music Conservatory Choir, Chicago, IL

Dr. Ingrid Lestrud enjoys an active career as a conductor, educator, and singer. She earned the Doctor of Music degree in orchestral conducting at Northwestern University, where she frequently conducted the university's orchestras and opera ensembles. She is the Voice Department Chair at the Merit School of Music in Chicago, where she is collaborating with the Lyric Opera and Renée Fleming to develop curriculum for the Renée Fleming Initiative, a solo voice program for high school students. She also serves as Merit's Director of Choirs and conducts six children and youth choirs. During the 2012-2013 season, she is a finalist for the music director position with the Oshkosh Symphony Orchestra. Previously, she has served as Assistant Conductor to the Elmhurst Symphony Orchestra, the Meadows Symphony Orchestra, and the Hot Springs Music Festival. Prior to her conducting studies, Dr. Lestrud earned a vocal performance degree at Lawrence University in Appleton, WI, and she enjoys singing with the Chicago Symphony Chorus.